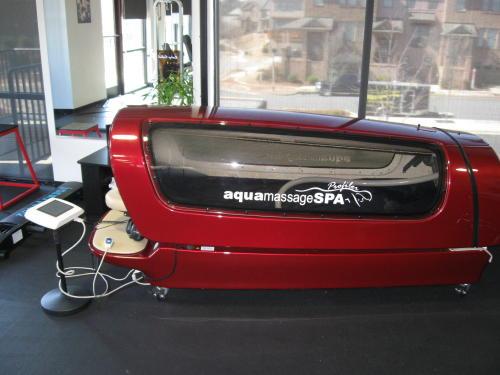 The Aqua Massage is used by many health professionals, sports teams, and gyms. This therapy is utilized to enhance muscle relaxation, reduce muscle pain and stiffness. The Aqua Massage is great way to get the benefits of massage when you do not have the time. You remain clothed and stay completely dry. You are surrounded by a water proof barrier that keeps you from getting wet yet you can still benefit from the water jets that simulate a fingertip massage. The force can be adjusted to benefit the individual sensitivity.
In addition to the sensitivity level being adjustable the temperature of the water can be altered to create the perfect atmosphere to relax and recover. The aqua massage is a whole body therapy that starts at the feet then gradually moves up the body to the neck. The aqua massage can also stop at specific areas to target those troubled spots for maximum benefit.
Aqua massage therapy can help those suffering from trigger points, muscle strains, back and neck pain, stress, stiffness in the joints, and scar tissue.
---